When an acquaintance comes to you because several people have shared that you can 'fix' their crisis…you might be good at what you do.
In the fall of 2015, Tennessee State University (TSU) had an on-campus issue. That same year, Vanderbilt had three times as many 'issues.' The difference, TSU is an HBCU. While crime was down, overall the year prior, there was a lot happening on higher education campuses [2015 TBI report].  One day in October, an incident occurred at TSU and a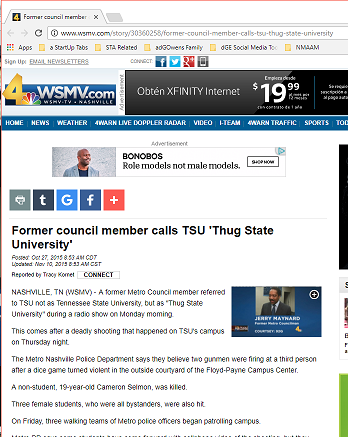 former Council Member made a comment that went viral. [in context, the comment could be viewed differently and if you listen to the entire thing, you can hear the beginning phases of a recommended plan; when edited to focus on the one phrase, it was a comment that absolutely went too far.]
At that time, the acquaintance went underground, for months, after receiving ridicule from the community and repeated negative coverage.
Coming up for air, mid 2016, the turmoil had quieted, heads were lifted and brows dried. And that's when an acquaintance became a client and I built a strategy to repair his tarnished brand.
To do this (re-building a brand), successfully, there are steps that must be taken on both sides. The client must let go of his/her control over their personal brand…must listen, must bite his/her tongue and be willing to have hard conversations. I created a four point platform that created positive, consistent messaging:
Build the brand image to match the level of messaging. You can't try to polish silver with water and a towel only, right? You have to find the polish cloth and the polish to go with the process. So, having a brand, website and social media that looks like 1992 won't help. We created a new brand strategy (design, content and messaging) and connected consistent imagery to all platforms.
Build messaging that focuses on substance with an extra helping of 'bright and shiny.' I led my team to develop key messages that were woven into each and every post, platform and article. And in actuality, did so without the plan on paper.
Enlist others to act as official or un-official brand ambassadors. When you've held a public office, one might think that it's easy to find support. If you're known as a 'jackass', 'bulldog' or a 'bull in a china shop' it's likely to not be easy at all. We identified a handful of people who did not mind lending their support, and an opportunity came that positioned the expertise of our client across multiple platforms.
Wash, Rinse, Repeat. Once a new perception starts (and perspective) is gained, do everything you can to chase after that 'high' – in a good way. The positive coverage that we achieved for our former client led to a series of positive positioning that took him from Pariah to #Power100
Tarnish: 
WSMV  (Former Council Member Calls TSU Thug State)
Tennessean (Ex-councilman Maynard refers to TSU as 'Thug State University')
Black Lives Matter (An Open Letter Response Regarding Justice for Jefferson)
Tennessean (Maynard to Justice for Jefferson Street: 'What the hell have you done?')
WQQK-92Q Nashville (The originating interview)
Nashville City Paper (Let Go From Legal Day Job)
Nashville Post (Councilman Has Law License Suspended 2010)
BPR Censure (2004 Censure)
Polish:
It was great to see the tarnish disappear, on an unlikely subject. The only thing is you have to keep-up with polishing the silver (that's another post, for another day).